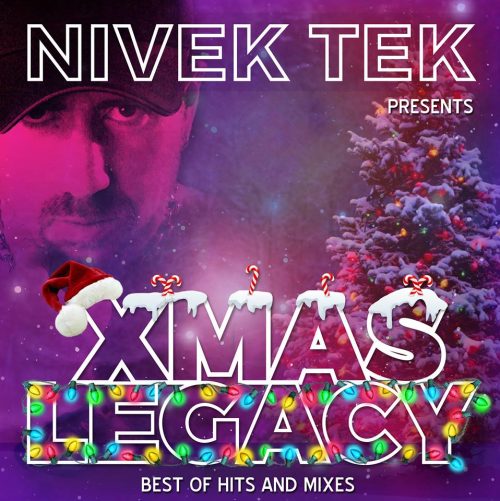 HO HO HO SANTA NIVEK HAS SOME SUPER DUPER HOLIDAY TREATS FOR YOU ALL!
XMAS LEGACY is the Christmas edition of Nivek Tek's Greatest Hits album Legacy: The Best Of Nivek Tek ( Hits and Mixes) .
LISTEN NOW!!!

BUY XMAS LEGACY NOW!
https://itunes.apple.com/us/album/x-mas-legacy-nivek-tek-presents/1319115276
https://www.amazon.com/X-Mas-Legacy-Nivek-Tek-Presents/dp/B077XDD15X/ref=sr_1_2?s=dmusic&ie=UTF8&qid=1512588260&sr=1-2-mp3-albums-bar-strip-0&keywords=nivek+tek
https://store.cdbaby.com/cd/xmaslegacynivektekpresen
Throughout the years, Nivek has had the pleasure of working with many talented remixers and producers but some of the most incredible musical magic that Nivek has ever created, came from his longtime musical collaborations with the multi-talented producer-remixer Keith Kemper.
Nivek has worked in the music industry for most of his life, especially the electronic and dance music industry.. Appropriately titled, Legacy stands as a testament of his lifelong Legacy in the music industry from the 80s through to 2018. One of Nivek's favorite Holidays is Christmas, outside of Halloween of course. Over the years with his record company ISV Entertainment, Nivek has produced and remixed several Holiday themed dance tracks. All of these tracks have appeared on the successful series Super Dance Christmas Party as well as various Christmas singles.
Make your Holiday Merry & Bright get "XMAS LEGACY" tonight!
https://www.isvent.com
https://www.facebook.com/isventertainment/
https://www.facebook.com/groups/ISVEntertainment/
https://www.facebook.com/nivektekofficial/
https://www.facebook.com/KeithKemperProductions/
ABOUT NIVEK TEK
Nivek Tek has been involved in the music and Dance Music industry for many years as a songwriter, vocalist,DJ, remixer and producer. He has worked in various fields of the music industry such as; marketing, advertising, management, promotion, production and A&R. Nivek started his career as owner and publisher of the grassroots magazine, Unique Magazine, covering the Club and Dance Music scene. He also wrote several articles for important industry publications such as DMA (Dance Music Authority). He has also run several successful dance music-oriented companies over the years including Dance Zone Productions, Import Sound & Vision (music video promotion & production) and now PROMO RUSH (formerly ISV Promotions) his record label ISV Entertainment, showcases some hot new European talents. He currently is writing, remixing and producing music in Sweden as well as the US, where he currently resides.
Nivek also has dabbled in radio with his commercial dance, chart show Promo Rush Radio as well as the infamous horror-themed Dark Sanctuary Radio. He also ran Dark Sanctuary Promotions which is music promotion for dark artists, labels and DJ's. With many ideas and marketing concepts under his belt, Nivek plans to conquer the Dance Music world full force.
Nivek Tek's first solo release was a remake of Erasure's "A Little Respect" His 2nd solo single "Hold Me Now" is a high octane re-imagining of the 80's classic by Thompson Twins. His 3rd solo single "Think" is an upbeat reboot of the Information Society classic. Nivek decided to explore his harder and darker side as an EBM/Industrial artist called TERRORTEK X. This new project is a very dark and disturbing look into the mind and soul of this rather eclectic, multi talented artist. Nivek has just released his Greatest Hits album Legacy: The Best Of Nivek Tek ( Hits and Mixes) that stands as a living testament of his musical Legacy.