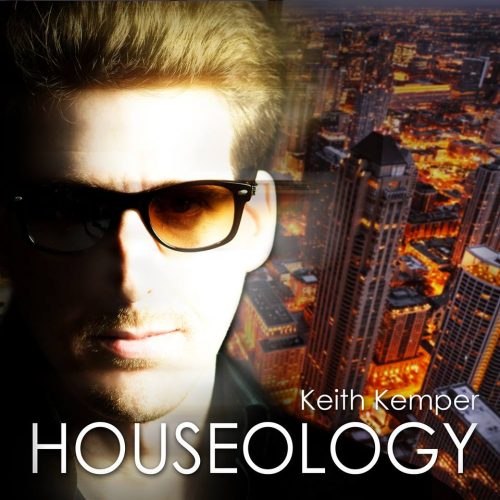 Let's celebrate the birth of this incredible producer and musician by buying his new album Keith Kemper "Houseology".
LISTEN NOW

DJ'S CONTACT SOBEL PROMOTIONS FOR YOUR COPY TODAY!
sobelpromotions@gmail.com
https://www.facebook.com/RealSobelPromotions/
Houseology is the fourth installment in the Keith Kemper Anthology series, exclusively released on ISV Entertainment. The first volume in the Anthology was "Tranceology". With "Tranceology" Keith Kemper takes you on an epic journey not only of time and space, but within the deepest recesses of his mind and soul. "Tranceology" features some of the most intense, melodic and powerful music you have ever heard!. Next up was "ReMixology". "ReMixology" is a comprehensive collection of some of his hottest remixes to date . The wildly successful, non-stop DJ Megamix "Mixology" followed, which was remixed by mixmaster extraordinaire Keith Kemper himself! Though it may seem like a hard act to follow to top any of these incredible albums, we can quite confidently say that we saved the best for last with "Houseology".
Houseology will set your night on fire! With 12 smokin' hot pure house tracks to choose from, Houseology is THE word in house music. You don't have to choose just one track, because Houseology includes a full, non-stop album megamix, mixed by Keith himself, that will have you groovin' and movin' all night long until the break of dawn. Houseology is an incredible collection of some of the smoothest, finest and funkiest house music ever to grace your ears. Keith takes us on a late night journey into the heyday of the house music movement, giving us all the best of the classic house but never leaving the contemporary sound of today. From disco to tribal, progressive, garage and euro, Houseology not only delivers but never disappoints! Keith pays homage to some of the greatest names and sounds of the house music movement, never missing a single beat and still managing to stay true to his own unique style. Whether you are listening to Houseology at a party or club or you are having you very own private dance party at home, Houseology is just what you need to put that bounce in your house and that groove in your step!
Get Houseology today and experience the true power of house music!
BUY IT NOW!
https://itunes.apple.com/us/album/houseology/1317568288
https://www.amazon.com/gp/product/B077TB2WCR/ref=dm_ws_sp_ps_dp
https://store.cdbaby.com/cd/keithkemper3
ABOUT KEITH KEMPER
Keith Kemper has proven to be an unstoppable force in dance music. Keith has cultured a successful 20 year career in the music industry. He has advanced to be one of the premier music talents coveted by many in the industry for his diversity, flexibility and unique style that is all his own. Keith has worked with, remixed and produced some of the most notable names in the music industry like Johnny Vicious, Razor 'n' Guido, Robert Miles, The Village People, Boy George, Tiffany, Samantha Fox, RuPaul, Cynthia & Lisette Melendez, Wanda Houston, Lisa Hunt, Kimberly Davis, Angie Gold, Shara Strand and many, many others. Keith has also worked for several music labels such as Sony, Epic, BMI, ISV Entertainment, D1 Music, J Records, Strictly Rhythm, Waako Records, Mic Mac Records, Phenom Records, Now Records, 2 Da Groove and Phase One Productions just to name a few. Keith's stellar Billboard hits include Lisa Hunt's 'The Joint Is Jumpin', SupaNova's 'No Secrets', Taborah & Darryl D'Bonneau's classic remake of 'Ain't No Stoppin' Us Now' and Kimberly Davis' 'Twist of Love'. He has even created music for the popular video game Project Gotham Racing 2 among other varied projects.
What sets Keith apart from many producer/composer/performers is his amazing chameleon-like ability to reproduce almost any style of music. Be it a ballad, a remix of the latest dance or pop track, a theatrical or film score, a commercial jingle, the latest video game score, or just performing his original work on stage, Keith is at home with all these styles and genres of music. Keith is able to quickly get projects done in record speed with superior professional results and quality. Many in the industry prize this as his most amazing asset; to get done what most cannot in record time.
The future is certainly bright for Keith Kemper as he continues to work with many other major artists and producers in all areas of the music and entertainment industry.
https://www.isvent.com
https://www.facebook.com/isventertainment/
https://www.facebook.com/groups/ISVEntertainment/
https://keithkemper.net
https://www.facebook.com/KeithKemperProductions/