Thank you to Sherwin Charles / Peter Lewis (Brooklyn, United States) DJ Fresh / Brooklyn DJ Factory, Scene, Niketalk Magazine, Zip DJ, Promo Rush Promotions and Barbara Sobel ( Sobel Promotions)
for your support of our record.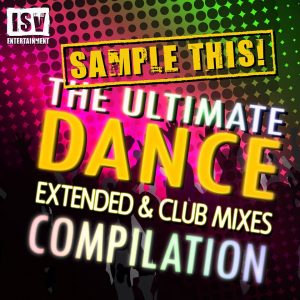 30 EXTENDED DANCE MUSIC TRACKS ON ONE ALBUM
30 turbo charged electronic dance tracks, from some of the hottest artists and remixers in the club music world today.
The biggest and the best names in clubland, have joined the celebration for this remix-a-thon… Check out this all star line up.. StoneBridge, Soundfactory, Love To Infinity, Keith Kemper, Nivek Tek, Tom Noize, Sex Appeal, Klubjumpers, Perry Twins, Matt Pop, Freeloader, Tom Pulse, Vasco & Millboy and MANY more!
Out Now Exclusively on ISV Entertainment
Various Artists – Sample This! The Ultimate Dance Compilation (Extended & Club Mixes)
Genre: #Trance #house #techno #tribal #euro #HiNRG #garage #progressive #club #dance
Label: ISV Entertainment
http://www.isvent.com
Listen & Buy >
https://itunes.apple.com/us/album/sample-this-ultimate-dance-compilation-extended-club/id1253563785?app=music&ign-mpt=uo%3D4
https://store.cdbaby.com/cd/samplethisclubextendedmi