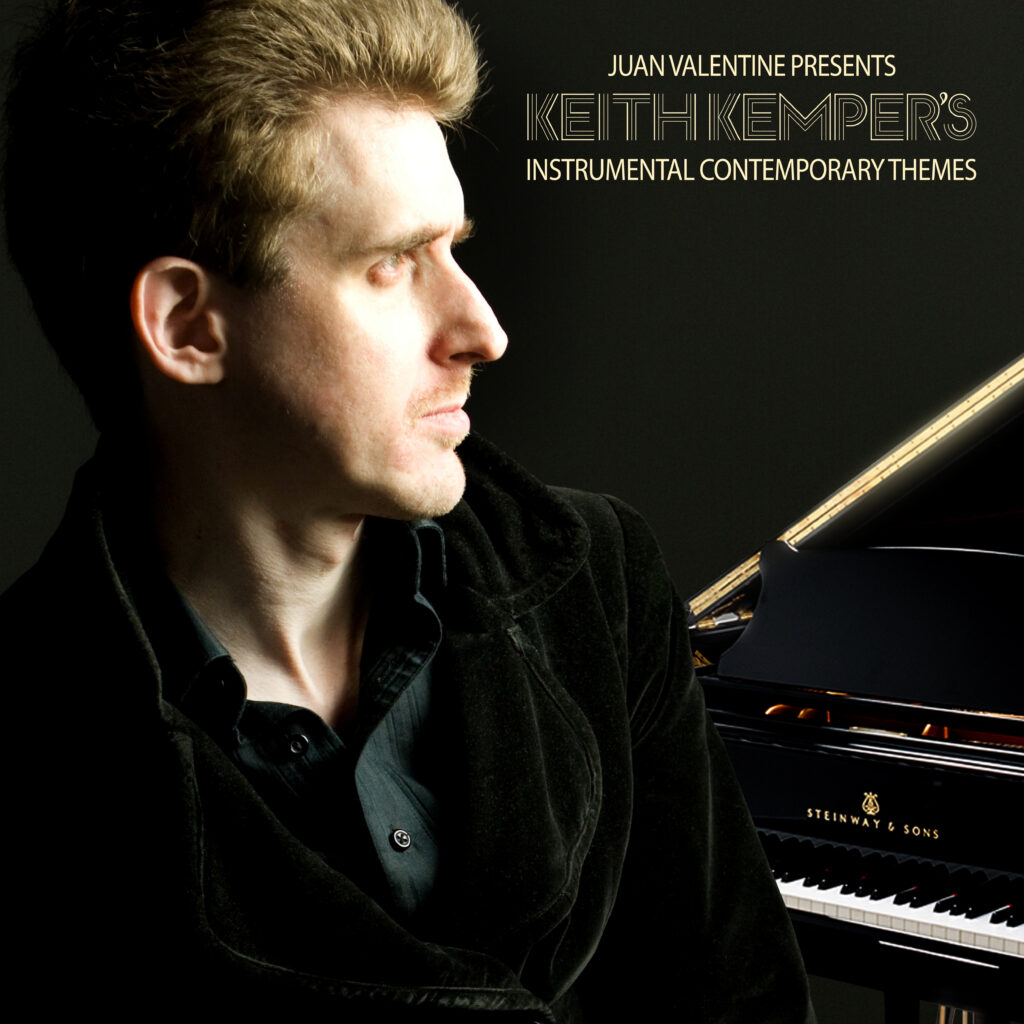 Juan Valentine Presents Keith Kemper Instrumental Contemporary Themes is a 30 year album in the making.
Keith has always loved classic film scores, composers and producers from the tender age of only seven.
Although his love for classic disco, helped pave the way to what would one day become a burgeoning career in the pop and electronic dance music world.
Listening to, writing and composing film and TV scores, have always held a special place in Keith's heart.
The first time he heard John Williams' composition for the original "Superman" movie and later for "Star Wars" he was completely hooked.
Keith's very eclectic musical tastes range from David Foster to Jerry Goldsmith, the late James Horner and Brian Tyler as well.
Keith grew up watching and loving classic TV and movies from the 80s and early 90s.
His passion for creating audio soundscapes runs deeper than just the music aesthetically.
To Keith, it is an exciting world of endless possibilities just waiting to be discovered.
A lot of the pop and dance music that Keith creates is multi-layered and multi-dimensional.
If you were to strip away the trappings of the pounding beats, infectious rhythms and pulsating synths, you would find a very simple, yet complex musical score underneath.
The orchestral feel that you will find on many of Keith's compositions, gives his productions greater depth and substance, unlike a lot of one dimensional, soulless, disposable dance and electronic music you hear today.
Although Keith has no plans on moving away from making pop and dance music, he felt that it was time to spread his wings in the hopes that this foray into the movie and TV genre, will lead to some new and exciting opportunities.
With two independent film and video games scores already under his belt, Keith has just begun to touch the tip of the iceberg of what he hopes will be on a much grander scale in the future.
Keith wants to share his excitement for these soundtracks and movie and TV scores with others in hopes that it will inspire them as well.
He hopes to one day live out his dream of fully scoring a major motion picture.
He would also love to lend his talents to all forms of entertainment media, such as placement in television and commercials as well.
Juan Valentine Presents Keith Kemper Instrumental Contemporary Themes illustrates that Keith is an authentic and classically trained musician and this album not only proves that Keith is a force to reckon with but it is just a small taste of many more exciting things to come.

CHECK IT OUT ON YOUTUBE
https://www.youtube.com/playlist?list=OLAK5uy_nKizeqDNScx-_BKKP2YGMYsvvH6RAPE8Q

BUY IT NOW ON
https://music.apple.com/us/album/juan-valentine-presents-keith-kemper-instrumental-contemporary/1654132899
https://open.spotify.com/album/1ETu6gYpt5mngvQybca9F2?fbclid=IwAR2yxEMAFSegQsC8G_to_Gu8F76XrrHs-eKxK5S6yiqZ__K-z3i1_TvwOqI

https://amazon.com/music/player/albums/B0BLZKGJX7?marketplaceId=ATVPDKIKX0DER&musicTerritory=US&ref=dm_sh_nwHpmT8uHVBzXtjoKkpe74wki