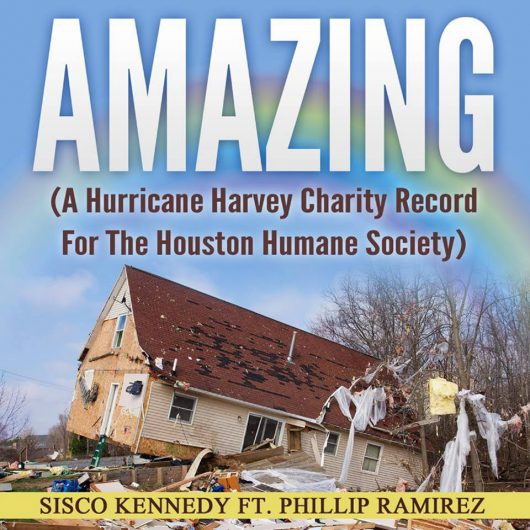 Sobel Promotions and Sobel Nation Records is proud to present Sisco Kennedy ft. Phillip Ramirez – Amazing, a Hurricane Harvey charity record, where 100% of the proceeds going to the Houston Humane Society. Please give what you can. 
=)
http://www.houstonhumane.org/
Amazing is a song of love and hope. During the bleakest times the world witnessed a outpouring of love towards the victims of the Hurricane. We celebrate that love and how the Hurricane brought out the best in people. The love shown is Amazing, and that love will help the victims of Hurricane Harvey rebuild their lives. The remix package consists of platinum selling, chart topping remixers. 'Featuring mixes from "The King Of Latin House" Jerry Ropero, Spin Sista, José Jiménez, Nivek Tek & Keith Kemper, Paul Hamilton, Suga, Joe Gillan, Scott Gordon, OK James, and RK Jackson! It really was an honor to work on this record, not just because it is for a wonderful cause but because the song is fabulous and Phillip Ramirez 's vocals are phenomenal! Nivek Tek and I were blown away by the power in his vocals. He reminds me of Sylvester . In fact, Sylvester would be proud. I think I felt her over my shoulder in the studio as we worked and I'm quite certain that she totally approves =) It was also wonderful to pay a special tribute to some of the greatest names in house music who have sadly passed on like Frankie Knuckles and Zeyma Hamilton (Clubland) and of course Sylvester . We wanted to bring back the feel good sound and vibes of 90's old skool. We mixed a bit of deep, garage, commercial, techno, Italo and disco to make what we feel is the perfect 90's club anthem cocktail. We are thrilled that you all like it. We can't wait until everybody hears this awesome record, there are so many talented mixers working on it.